Подача статей





Khabibulina V.M.
ON THE THEORETICAL ASPECTS OF STRATEGIC CONTROL AT THE ENTERPRISE [№ 8 ' 2011]
The author focuses attention on the fact that among scientists there is no unanimous opinion relative to concept "strategic administration" and "strategy". In the article the stages and the theoretical aspects of strategic control in machine-building enterprise are examined.
Khabibulina V.М., Sadykov, L.M.
CONTENTS AND LEVELS OF FORMATION OF THE STRATEGY DTVELOPTENT OF INSURANCE COMPANIES [№ 13 ' 2010]
The authors draw attention to the fact that among scientists there is no consensus the concept of "strategy". The article discusses the strategy of the insurance company, as an essential element for its further development, as well as the basic levels of its formation.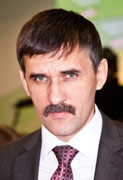 Editor-in-chief
Sergey Aleksandrovich
MIROSHNIKOV