Подача статей





Guzhva O.V.
GENESIS OF ENFORCEMENT INSTITUTE IN THE RUSSIAN CRIMINAL TRIAL [№ 3 ' 2013]
The article discusses the development of Russian legislation on the regulation of the Institute of execution as the stage of the criminal proceedings. The author concludes that the order of adjudication of issues related to the execution of the sentence requires further legislative regulation.
Guzhva O.V.
INITIAL CHAPTER OF EXECUTION OF A SENTENCE STAGE IN CRIMINAL PROCEDURE [№ 3 ' 2010]
Author proved position on execution of a sentence at an initial chapter in criminal proceedings.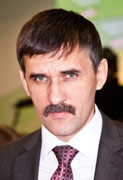 Editor-in-chief
Sergey Aleksandrovich
MIROSHNIKOV