Подача статей





Kuksanov V.F., Groshev I.V., Grigorieva O.V.
ECOLOGICAL-HYGIENIC CHARACTERISTIC OF HEAVY METALS INFLUENCE ON COMPONENTS OF NATURAL ENVIRONMENT OF MEDNOGORSK TOWN [№ 5 ' 2006]
The problems connected with intensive influence of technogenesis on ambient air, soil and surface water are considered in this article. Worsening of ecological situation promotes increase of population morbidity and mortality. A number of specific peculiarities of natural environment components pollution with heavy metals are distinguished in Mednogorsk town.
Levykin S.V., Akhmetov R.Sh., Petrischev V.P., Zhdanov S.I., Groshev I.V.
ABOUT APPLICATION OF INNOVATION TECHNIQUES INTO THE SYSTEM OF ESTIMATE AND LAND-SURVEY OF AGRICULTURAL FUNCTION [№ 7 ' 2004]
Methodological approaches of complex estimate of the steppe zone ecological land resources economical potential under the conditions of crop market formation in Russia. Special attention is paid to the possibility of geoinformational technologies use and validation of conditioned profitable method of land price formation with defining of agrarian land use basic parameters, miniokhot use and preservation of biovariety of steppe.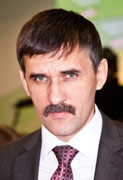 Editor-in-chief
Sergey Aleksandrovich
MIROSHNIKOV