Подача статей





Goptareva I.B.
GLOBAL MANAGEMENT AS A DERIVATIVE OF GLOBALIZATION [№ 3 ' 2013]
This article discusses the challenges of global governance, its objectives, concepts, including regulatory and teleological concept "Governance per se", which includes goals of institutions and norms of control subjects, consideration of the institutional forms of government regulation and social coordination mechanisms of multilevel system with the participation of civil society.
Goptareva I.B.
LEGAL PRINCIPLES AND MECHANISMS OF THE COOPERATION OF THE RUSSIAN FEDERATION AND ITS SUBJECTS [№ 3 ' 2011]
The author analyzed legal principles, legal relationship and the mechanisms of the cooperation of the Russian Federation and its subjects.
Goptareva I.B.
CONSTITUTIONAL COMPONENT OF MULTIETHNIC FEDERALISM [№ 5 ' 2006]
Constitutional and legal institutionalization of the territorial power at ethnic principal (former USSR, ChSSR, SFRU, this day RF) contains secret threat. Development of constitutional legislation, regulated in details extraterritorial autonomy in multiethnic federative states, is regarded in this article as a possible method of integration integrity keeping of multistructural society and state.
I.B. Goptareva
THE PROBLEM OF CORRELATION OF FEDERALISM AND REGIONALIZATION IN RUSSIA [№ 6 ' 2003]
The article is devoted to the problem of ratio of federalism as the state strategy of formation of new (democratic) political - legal space supposing unity of the multicompound state for the sake of preservation of cultural / territorial variety, and regionalization, meaning the process of regional structurization of space, and also more and more full inclusion of regions in economic, social and political life at a national level. In the article the problems of costs of processes of federalization and regionalization of today's Russia, the influence of various factors on effort of skewness of federalism, the infringement of relations) centres - regions are mentioned.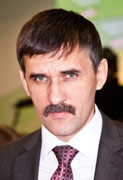 Editor-in-chief
Sergey Aleksandrovich
MIROSHNIKOV