Подача статей





Gimaltdinov I.K.
ABOUT PULSE DISTURBANCE ATTENUATION IN THE TUBE WITH BUBBLE LIQUID WITH GRADED ALLOCATION OF BUBBLES AT SECTION [№ 2 ' 2006]
Pressure waves' evolution in the tube, filled with gas-liquid environment, at graded allocation of bubbles at the tube section is studied in this article. The results of calculation are compared with experimental data. It is shown that more intensive impact pressure in comparison with case of homogeneous distribution happens because of cross-flow appearance at uneven bubbles allocation.
Gimaltdinov I.K.
ABOUT ATTENUATION OF PULSE PERTURBATION IN THE PIPE WITH VESICULAR LIQUID WITH STEPPED DISTRIBUTION OF VESICLES ON SECTION [№ 10 ' 2005]
The evolution is investigated of pressure waves in a pipe filled with gas-liquid fluid, at stepped distribution of vesicles on pipe`s section. Results of calculations are compared to experimental data. It is shown, that because of occurrence of cross currents at non-uniform distribution of vesicles there is more intensive attenuation of pulse pressure in comparison with a case of homogeneous distribution.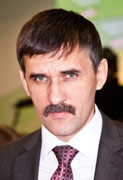 Editor-in-chief
Sergey Aleksandrovich
MIROSHNIKOV