Подача статей





Bykov A.V., Mezhueva L.V., Ivanova A.P., Bykova L.A., Getmanova N.V.
MEANING OF REAGENTLESS WATER CLEANING AT THE REGULATION OF MACRO- AND MICROELEMENTS CHANGE IN ANIMALS' ORGANISM [№ 6 ' 2011]
The article presents the results of research aimed at developing and improving methods of water treatment, which can be used in the technologies of products with preset properties. For reagentless water treatment is proposed and justified the use of ultrasonic cavitation in conjunction with the freezing and thawing of water that allows you to adjust the content of organic and mineral impurities in it.
Ivanova A. P., Mezhueva L.V., Gunko V.V., Getmanova N.B., PiskarevaT.I.
ENGINEERING GEOMETRY IN THE DESIGN OF MIXERS [№ 10 ' 2010]
The authors carried out the complex of studies, which makes it possible to increase the qualitative output of ready-made production due to the optimization of the structural-geometric elements of the geometric simulation of the working surfaces of mixers.
Ivanova А.P., Mezhueva L.V., Gunko V.V., Getmanova N.V., Bykov А.V.
ON INFLUENCE OF ENGINEER GEOMETRY ON FORECASTING THE RESULTS OF TECHNOLOGICAL PROCESS [№ 5 ' 2010]
The article reviews industrial research, which made recommendations on the design of structural and geometric elements providing vibromixing process.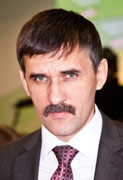 Editor-in-chief
Sergey Aleksandrovich
MIROSHNIKOV