Подача статей





Belova E.B., Kolsanova R.R., Gainutdinov M.Kh., Kalinnikova T.B.
SENSITIZATION OF NICOTINIC ACETYLCHOLINE RECEPTORS BY SOCIAL ISOLATION OF SOIL NEMATODES CAENORHABDITIS ELEGANS [№ 1 ' 2016]
The action of social signals on the organism is always adaptive for animals' population. Social signals can regulate population size both through decrease of fecundity and survivability of single animals and decrease of behavior resistance to stressful environment. It is known that central processes of non-specific stress-reaction of rodents involve activation of cholinergic system in their brain. Since many functions of cholinergic system and their mechanisms are highly conserved in the course of evolution, one may propose that cholinergic system of invertebrates responses to stress induced by social isolation of animals just as such of rodents. To investigate the possible influence of social signals on the cholinergic system of invertebrates experiments with free-living soil nematode C. elegans were performed. In these experiments the sensitivity of swimming induced by mechanical stimulus to acetylcholine esterase inhibitor neostigmine and agonists of nicotinic acetylcholine receptors levamisole and nicotine was estimated for single nematodes and for nematodes incubated in small groups (n = 3 ÷ 5). It was shown that group effect alters the reaction of C. elegans cholinergic system to stress. When nematodes were incubated in groups (n = 3 ÷ 5) the resistance of their behavior to partial inhibition of acetylcholine esterase by neostigmine was higher than such of single nematodes. The sensitivity of swimming induced by mechanical stimulus to levamisole and nicotine of nematodes incubated individually was much higher than such of nematodes incubated in groups (n = 3 ÷ 5). Therefore the activation of cholinergic system of C. elegans by sensitization of nicotinic acetylcholine receptors is involved to its response to environmental stress.
Kolsanova R.R., Kalinnikova T.B., Belova E.B., Gainutdinov T.M., Gainutdinov M.Kh.
ABOUT THE ROLE OF CHOLINERGIC SYNAPSES IN THE THERMOTOLERANCE OF SOIL NEMATODE CAENORHABDITIS ELEGANS AND CAENORHABDITIS BRIGGSAE [№ 9 ' 2014]
In experiments with two closely-related species of soil nematodes C. elegans and C. briggsae it was shown that resistance of cholinergic synapses correlates with differences in behavior thermotolerance of nematodes. The increase in thermotolerance of cholinergic synapses' functions may be the cause of adaptive changes of thermotolerance of organisms of nematode of Caenorhabditis genus in the course of their evolution.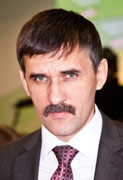 Editor-in-chief
Sergey Aleksandrovich
MIROSHNIKOV