Подача статей





Gafarov T.Kh.
LEGAL CULTURE IN PHILOSOPHICAL SYSTEM OF GEGEL [№ 7 ' 2008]
This article is devoted to the analysis of philosophical-legal theory of George Gegel through prism of the category "legal culture". Close connection of legal and ethic ideas of the German thinker is shown and understanding of law as freedom realization by Gegel is regarded here. For reasons given the author makes a conclusion about presence of definite stages in development of legal culture in the context of Gegel philosophical system.
Nigmatullin R.T., Gafarov R.G., Galiakhmetov R.F., Aslyamov N.N., Mukhametov A.R., Ishmuratova I.R., Mukhametova Z.R.
ROLE OF TISSUE TENSION AT TRANSPLANTATION OF ALLOGENIC GRAFTS [№ 12 ' 2007]

Efremov I.V., Rahimova N.N., Efremova E.G., Savchenkova E.E., Gafarova K.Y.
MATHEMATICAL MODELLING OF RADIOACTIVE NUCLIDE MIGRATION IN SOIL – VEGETATIVE COMPLEXES OF ORENBURZHYE [№ 9 ' 2005]
Research of migration of elements on a soil structure is one of the important approaches to studying of anthropogenous influence on vegetation. Radioactive nuclide migration on a ground structure occurs due to moving of soil particles, which form its structure, due to movement of the soil moisture, containing soluble and colloidal their forms. Sorption of heavy metals is carried out due to two processes fast – exchange and slow not exchange.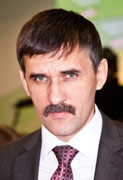 Editor-in-chief
Sergey Aleksandrovich
MIROSHNIKOV