Подача статей





Fomichev Yu.P., Netecha Z.A., Kleimenov R.V., Paimerova I.S., Piyanzina I.P.
INFLUENCE OF (СА, МG, FE, ZN, CR) BIOELEMETS COMPLEX IN MICELLAR FORM SEPARATELY AND IN COMBINATION WITH BIOSILICONORGANIC PREPARATION ON CLINICAL-PHYSIOLOGICAL CONDITION OF PIGLET ORGANISM AT PUMP PERIOD OF GROWING [№ 6 ' 2009]

Fomichyov Y.P., Shaydullina R.G., Artemyeva O.A., Zabolotsky V.A., Gvozd V.F., Ryzhkov V.A.
EFFICIENCY OF APPLICATION OF ENTEROSORBENTS IN COMBINATION TO MACROCELLS AT CADMIC INTOXICATIONS OF ANIMALS [№ 6 ' 2005]
Efficiency of application is investigated of organominefal compositions on a basis of chotosan and zeolite in a combination with Zn2 + and Cu2 + at cadmic intoxications in experiment. The increase of Cb2 + elimination from an organism and increase of nonspecific resistance is shown.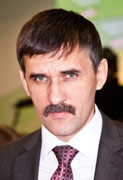 Editor-in-chief
Sergey Aleksandrovich
MIROSHNIKOV