Подача статей





Fedorischeva O.V.
THE BALANCED SCORECARD OF THE ENTERPRISE: THE DEVELOPMENT OF INDICATORS OF PREVENTIVE CRISIS MANAGEMENT [№ 13 ' 2011]
The article describes determination of interrelation between factors of the external and internal environment and the formalization of these factors in the indicators. At the same financial block (financial component) is considered as summarizing all the remaining blocks of balanced indicators.
Fedorishcheva O.V.
RESEARCH OF REASONS AND FACTORS LEADED NATIVE INDUSTRIAL ENTERPRISE TO CRISIS CONDITION [№ 1 ' 2008]
Modern scientific approaches to distinguishing of factors, conditions and reasons leaded to crisis are regarded in this article. At the same time the author of the article shows the lacks of different groups of factors from the position of crisis management theory. The necessity of perfection of factors' classification leaded enterprise to crisis condition is underlined in this work.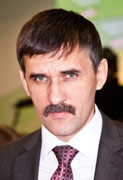 Editor-in-chief
Sergey Aleksandrovich
MIROSHNIKOV