Подача статей





Zaynutdinova G.Kh., Fayzullina A.S., Farkhutdinova A.A., Bikbov M.M.
EVALUATION OF CLINICAL RETINOPATHY OF PREMATURITY USING MODERN METHODS OF DIAGNOSTICS [№ 12 ' 2014]
At the present stage in connection with the improvement of the care of premature infants and an increase in their number the problem of early diagnosis and treatment of retinopathy of prematurity (ROP) is becoming increasingly important [1]. Optimization of diagnostics PH using modern equipment, such as a pediatric retinal camera, the use of computer programs for the quantitative measurement of retinal vascular caliber [3], [4], holding optical coherence tomography [2] — all this allows ophthalmologists to receive more information about the activity and localization of the process in the retina, which is very valuable in screening and monitoring of the ophthalmopathology.
Kuzbekov Sh.R., Farkhutdinova A.A.
TRANSKANALICULAR LASER DACRYOTSISTORINOSTOMY WITH LACRIMAL APPARATUS INTUBATION BY SILICONE STENT UNDER ENDOSCOPIC CONTROL AT CHILDREN [№ 12 ' 2012]
The paper presents results of surgical treatment children with chronic dacryocystitis. Shows the effectiveness of laser transkanalicular dacryotsistorinostomy with this disease.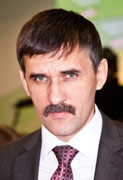 Editor-in-chief
Sergey Aleksandrovich
MIROSHNIKOV