Подача статей





Evstropov M.V.
TO THE QUESTION OF POSSIBILITIES APPRAISAL OF ENTERPRISES BANKRUPTCY FORECASTING IN RUSSIA [№ 8 ' 2008]
The analysis suggested by us of logit-models of bankruptcy forecasting of large and middle enterprises of processing industry revealed some their disadvantages. New logit-models for such forecasting were suggested, their appraisal was conducted and new methods of their practical using were worked out in this article.
Evstropov M.V.
APPRAISAL OF POSSIBILITIES OF BANKRUPTCY FORECASTING OF ENTERPRISES IN RUSSIA [№ 4 ' 2008]
Possibilities of using of two foreign methods of bankruptcy forecasting in Russia are regarded in this article and also new models of forecasting for working out of which at first time in Russia the logit-analysis is used, in the base of which new systems of forecasting indexes are stood.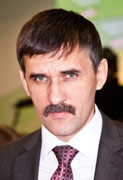 Editor-in-chief
Sergey Aleksandrovich
MIROSHNIKOV