Подача статей





Shatalova T.N., Yenikeyeva A.G.
THE ECONOMIC ESSENCE OF PRODUCTION POTENTIAL [№ 8 ' 2007]
The presented article considers the issues connected with determination of economic essence of production potential. At consideration of the terms "potential", "economic potential", and "production potential" the works of domestic and foreign economists were used. The article pays special attention to determination of the essence of economic potential as a source of national income growth and economic power of a country. The production potential is studied as a structure forming element of economic potential.
Akimov I.A., Fatykhov M.A., Enikeev T.I.
EXPERIMENTAL RESEARCH OF HEAT TRANSMISSION IN PLANT OF AUTOMATIC INTRODUCTION OF TECHNOLOGICAL PROCESS OF COMPOSITE MATERIALS POLYMERIZATION [№ 5 ' 2006]
The results of experimental researches of temperature change in composite material used for production of helicopter vane spar as a result of polymerization are given in this article. Experimental plant is described here. The methodic of temperature changes researches in polymer at time is given. Transferring characteristics of this dynamic process is established in this wok.
Enikeev Z.D.
SPECIAL STATUS OF UNIVERSALLY RECOGNIZED PRINCIPALS AND NORMS OF INTERNATIONAL LAW AND THE PROBLEMS OF ITS REALIZATION IN RUSSIAN CRIMINAL AND PROCEDURAL LEGAL PROCEDURE [№ 3 ' 2006]
This article is devoted to the analysis of special status of universally recognized principals and norms of international law and connected with it problems of its realization in Russian criminal and procedural legal procedure.
Fatykhov M.A., Enikeev T.I., Akimov I.A.
MECHANICAL FEATURES OF COMPOSITION MATERIALS DEPENDING ON TEMPERATURE MODE OF ITS PREPARATION [№ 2 ' 2006]
The results of experimental researches of composition materials on stretching, bend, shear and torsion are given in this article. Dependences of mechanical features from content of binding material, heating rate and cooldown are determined here. Activity of refusals and possibility of no-failure operation of composition materials are determined with methods of statistical analysis of researched results.
Enikeev Z.D.
LAW-ENFORCEMENT POTENTIAL OF THE RUSSIAN CONSTITUTION AND PROBLEMS OF ITS REALIZATION IN CRIMINAL PROCEDURE [№ 3 ' 2005]
The nature of law-enforcement function of the Constitution of the Russian Federation and its problems, concerned with protection of person's and citizen's laws and freedoms are regarded in this article.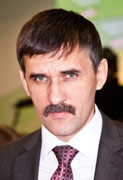 Editor-in-chief
Sergey Aleksandrovich
MIROSHNIKOV