Подача статей





Annenkova N.A., Efanov A.A.
EVOLUTION OF OCCASIONALISMS FUNCTIONING AT THE POETRY OF I. SEVERYANIN (ON THE MATERIAL OF FOLLOWING COLLECTIONS: "PRINCESS'S NECKLACE", "PINEAPPLES IN CHAMPAGNE", "CLASSICAL ROSES") [№ 5 ' 2010]
Frequency of I. Severyanin's appeal to occasionalisms in different periods of his work is regarded in this work. The authors reveal occasionalisms and show the methods of their formation characterized for each collection. Also they note the process of adoption of Severyanin's occasionalisms by other poets.
Efanov A.M.
RESEARCH OF MACHINE WITH ELECTRIC DRIVE DYNAMICS [№ 1 ' 2007]
Methods of dynamic research of rotary and cyclic types machine aggregates with accounting of dynamic characteristic of driving motor are regarded in this article. It is shown that accounting of dynamic characteristic gives not only numerical correction at the researches' results but can lead to qualitative new dynamic effect.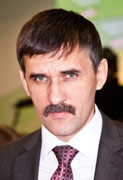 Editor-in-chief
Sergey Aleksandrovich
MIROSHNIKOV