Подача статей





Dryndin V.L.
TO THE QUESTION OF SOVIET ECONOMICAL REFORMS HISTORIOGRAPHY OF THE BEGINNING OF 1950 AND THE FIRST HALF OF 1960 [№ 10 ' 2004]
Problem field with planned borders, proper plots and searching tasks was made in native and foreign historiography attaching to soviet economical reforms of the beginning of 1950 and the first half of 1960. It is acceptably in its limits to put a question about lacunas existence in historical knowledge, disputable marks and studying perspectives.
Dryndin V.L.
AGRICULTURAL MODERNIZATION IN 1950-1960 S. [№ 4 ' 2002]
At the beginning of 1950 years conditions for social and economical development of collective farms in USSR were different in comparison with pre-war period. Policy influence on manufacturing in 1950-1960 years was ineffective. It was a period of economy stagnation. Grain and other foodstuff were imported. This article analyzes the achievements and inefficiency composition of Soviet agricultural policy.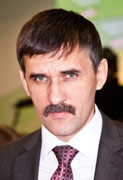 Editor-in-chief
Sergey Aleksandrovich
MIROSHNIKOV