Подача статей





Dorofeev A.V.
STUDYING TECHNOLOGY OF THE COURSE "HISTORY OF MATHEMATICS": FROM KNOWLEDGE TO PROFESSIONAL CULTURE OF A FUTURE TEACHER [№ 2 ' 2006]
Pedagogical potential of historical and mathematical knowledge for professional culture increase of a future teacher of mathematics is analyzed in this article. Studying technology of the course "History of mathematics" in Pedagogical Institute of Higher Education based on the idea of professional trend is suggested here too.
Dorofeev A.V.
PROFESSIONAL ORIENTATION OF FUTURE TEACHER`S MATHEMATICAL PREPARATION [№ 10 ' 2005]
In the work the professional - pedagogical potential of the mathematics course is analyzed by preparation of students. Use of the tasks modelling pedagogical activity, promotes informal mastering by mathematical methods and formation of professional qualities of the future teacher.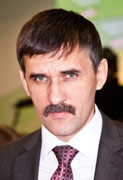 Editor-in-chief
Sergey Aleksandrovich
MIROSHNIKOV