Подача статей





Donetskova O.Yu, Sadykova L.M.
ABOUT THE DEVELOPMENT OF BANCASSU RANCE IN RUSSIA [№ 8 ' 2015]
Since the mid-80s in Europe actively there is a process of mergers and acquisitions of financial institutions, who in the mid 90's and joined Russia. Financial intermediaries began to create financial unions and associations, in particular the merger of banks and insurance companies that led to the emergence of markets of financial services of the phenomenon of bancassurance. With the institutional approach, bancassurance is a way of organizing cooperation between banks and insurance firms. With the functional approach, bancassurance is the organization of the system of cross-selling banking and insurance products through a single point of sales, mainly through a network of Bank branches and Bank offices.In practice, the cooperation between banks and insurers can be represented in several forms, which represent successive stages of development (from simple to more complex) joint business banks and insurers in banking insurance. Cooperation of banks and insurance companies is carried out mainly in the following areas: retail bancassurance, c. rporate bancassurance and insurance risks faced by banks. Since 2013 has formed a new sector bancassurance — non-credit insurance, including investment life insurance mixed life insurance and property insurance of physical persons. Currently, there are few problems that restrict the development of bancassurance in Russia. The authors have systematized the difficulties of development of bancassurance: the high cost of time and resources, high risk of interaction, the reluctance of banks to implement new projects high Commission, "imposition" of bancassurance products, the mismatch performance of insurance firms, the problem of personnel, incompatibility of technologies for banks and insurance companies, the low level of financial literacy and insurance protection. In addition, proposed solutions to these problems that banks and insurance companies must implement together.
Donetskova O.Yu.
TENDENCIES OF CREDIT MARKET DEVELOPMENT IN ORENBURG REGION [№ 1 ' 2011]
Condition and tendencies of the credit market development in Orenburg region are analyzed in this article. The author determines factors contained credit products progression on the regional market. Peculiarities of functioning of regional nonbank institutions are established. The directions of the development of regional credit market are determined in this work.
Donetskova O.Yu.
INTERSECTORAL COOPERATION FINANCIL INTERMEDIARIES [№ 13 ' 2010]
Investigated motive interaction of financial intermediaries in the process of financial intermediation. The factors that influence the interaction of financial intermediaries. Identified the need to create a single regulatory institution.
Donetskova O.Yu.
NATURE AND SPECIFICITY OF FINANCIAL INTERMEDIATION [№ 13 ' 2010]
Investigated stages of development of financial intermediation. Defined functions performed by financial intermediaries. The features of the modern theory of intermediation.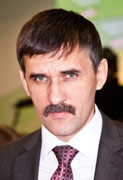 Editor-in-chief
Sergey Aleksandrovich
MIROSHNIKOV