Подача статей





Korabeinikov I.N., Speshilov S.M., Dmitrenko O.V., Schastieva L.M.
BASES OF PRIORITY TRENDS OF EFFECTIVE DEVELOPMENT OF REGIONAL CLUSTER OF DIFFERENT TYPOLOGY [№ 5 ' 2009]
This article is devoted to the bases of priority trends of effective development of regional production clusters. The typology of regional production clusters is suggested on the base of classification of different interpretations of "cluster" concept and also methodological approach for revealing of priorities of their effective development is described here. Organizational-economic models of effective development of clusters of different types are presented in this work.
Korabeinokov I.N., Inevatova O.A., Dmitrenko O.V., Gamova O.N.
PECULIARITIES OF SCIENTIFIC AND INNOVATION SPHERE DEVELOPMENT IN ORENBURG REGION [№ 2 ' 2009]
This article is devoted to the studying of peculiarities of scientific and innovation sphere development in Orenburg region. The complex analysis of this sphere as a totality of interactive elements produced knowledge and provided their commercialization is given in this work. Also factors influenced on forming of scientific sphere are analyzed and suggestions effectiveness increase of scientific and innovation sphere functioning are formed.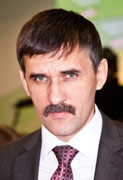 Editor-in-chief
Sergey Aleksandrovich
MIROSHNIKOV