Подача статей





Bulatov V.N., Timonov E.S., Daminov D.A.
SPECTRAL ANALYSIS OF DIGITAL SIGNALS WITH NONUNIFORM SAMPLING [№ 6 ' 2006]
Method of signals approximation at the definite time period with nonuniform sampling is given in this article. Expression of spectral concentration is received for composed approximate polynomial. Dependences are received for appraisal of error at time and frequency spheres for spectrums of approximate signals, presented with harmonic motion.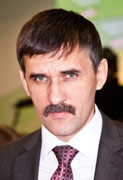 Editor-in-chief
Sergey Aleksandrovich
MIROSHNIKOV