Подача статей





Ermakova O.V., Iskakov I.A., Chernykh V.V., Trunov A. N., Razhev A.M., Churkin D.S., Kargapoltsev E.S.
INVESTIGATION OF THE EFFECTS OF THE EXCIMER LASER WITH A WAVELENGTH OF 308 NM ON SCLERAL TISSUE [№ 4 ' 2013]
The paper presents the results of experiments series using an excimer laser at 308 nm (KrF) to the scleral tissue. The main parameters of influence: the threshold energy density ablation, ablation rate. The comparative characteristics of the excimer laser with a wavelength of 248, 308, 353 nm were described. The optimal UF wavelength for effects on the sclera was determined.
Chourkin S.A.
PECULIARITIES OF SPECIALIZED AID TO PULMONARY TUBERCULOSIS PATIENTS OF ADVANCED AND SENILE AGE [№ 12 ' 2006]
The growth of share of advanced and senile aged people in age population structure of Russia requires development of new forms of medical aid. A sociologic interrogation was conducted among older persons with a view to justify opening of geriatric departments in anti-tuberculosis dispensaries. The questioning has detected the social portrait of patents, nosological tuberculosis structure, treatment duration and patients' satisfaction with organization of specialized aid.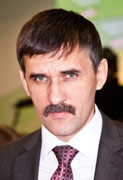 Editor-in-chief
Sergey Aleksandrovich
MIROSHNIKOV