Подача статей





Chudaev N.I.
METHODOLOGICAL ASPECTS OF CRISIS SITUATION RESEARCH AT THE DEVELOPMENT OF ECONOMIC SYSTEMS [№ 5 ' 2010]
The questions researching factors determined crisis phenomena in native economy are regarded in this article. Objective conditions of decrease of negative crisis consequence are characterized here and aspects of crisis situations diagnostics are regarded.
Chudaev V.N.
METHODIC QUESTIONS OF GOODS STRATEGY WORKING OUT ON INDUSTRIAL ENTERPRISES [№ 8 ' 2009]
In this article the author regards the questions of perspective goods strategy working out in frames of industrial enterprises with aim to reach steady position on the market and high level of financial prosperity in future. Also the place of goods strategy is determined in general strategy of the enterprise, the principals, tasks, functions and problem moments of goods strategy forming are indicated here.
Chudaeva A.A.
RELIABILITY AND TERM OF EQUIPMENT WORK AS AN ECONOMIC CATEGORY [№ 8 ' 2009]
The concepts of reliability and term of equipment work are regarded in this article. The necessity of regarding of these categories as economic is proved here. The author suggests the algorithm of determination of economically expedient limits of reliability increase with help of method of economic appraisal of investments effectiveness. Also the tasks which are stayed undecided in suggested scheme of calculations are noted here.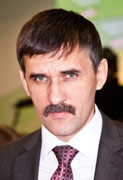 Editor-in-chief
Sergey Aleksandrovich
MIROSHNIKOV