Подача статей





Chernousova A.M., Galina L.V.
RAPID ASSESSMENT OF PRODUCT RANGE ON CRITERIA EFFICIENCY OF INDUSTRIAL EQUIPMENT [№ 5 ' 2011]
The article deals with a rapid assessment of the effectiveness of the use of highly automated production equipment. The developed method-ka based on the data of manufactured products and the parameters of the production environment. The results of software implementation of automated procedures for decision-making on the issue of products in the form of subsystem CAM.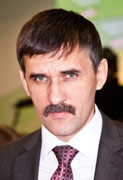 Editor-in-chief
Sergey Aleksandrovich
MIROSHNIKOV