Подача статей





Chernaya L.V., Kovalchuk L.A.
THE CONTENT OF HEAVY METALS IN THE TISSUES OF THE LEECHES, THAT DWELL IN THE SOUTH URAL LAKES [№ 12 ' 2010]
The article carried out the comparative analysis of the accumulation of heavy metals by the predatory and blood-sucking leeches, that dwell in the reservoirs of Ilmen national park and in the adjacent to it territories. Studies showed species specificity in the accumulation of heavy metals by the tissues of leeches.
Chernaya A.I., Boyarova O.A.
SOME METHODS OF SEMANTIC ANALYSIS OF PHRASEOLOGICAL UNIT (ON MATERIAL OF ENGLISH PHRASEOLOGISMS WITH COMMON MEANING "MIND") [№ 11 ' 2004]
Phraseology is a very rich language heritage. The part of research, which is devoted to the analysis of semantic line with common meaning "mind", is presented in this article.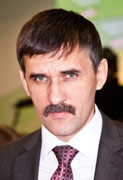 Editor-in-chief
Sergey Aleksandrovich
MIROSHNIKOV