Подача статей





Chainikova I.N., Smolyagin A.I.
CYTOKINES AT INFECTIOUS PROCESS CAUSED WITH SALMONELLAS [№ 12 ' 2006]
Data of literature and results of own experimental researches about changes of cytokines products at infection caused with salmonellas including infectious process with their long persistence in organism of master are given in this article.
Chainikova I.N.
SELF-DESCRIPTIVENESS OF IMMUNOLOGICAL INDEXES AND BIOLOGICAL CHARACTERISTICS OF SALMONELLAS AT FORECASTING OF SALMONELLA INFECTION OUTCOME [№ 12 ' 2005]
The dominate role of immunity factors in forming of reconvelsion salmonella bacteria carrying on the analysis base of persistent salmonellas characteristics self-descriptiveness, indexes of system and local immunity, is set in this article.
Bukharin O.V., Chainikova I.N., Smolyagin A.I., Valyshev A.V., Perunova N.B., Vlasova E.V., Kalinina T.N.
CHARACTERISTICS OF LOCAL BOWELS IMMUNITY AND MICROBIOCENOSE OF PATIENTS WITH SALMONELLOSIS INFECTION [№ 5 (app.1) ' 2005]
It was revealed that evident numerical and qualitative damages of microbiocenose condition of thick bowels of patients with salmonellosis are accompanied with synchronous change of local immunity characteristics in coprophiltrates and saliva.
Chainikova I.N., Smolyagin A.I., Livshits N.M., Sapozhnikova A.V., Bukharin O.V.
INFECTOLOGICAL ASPECTS OF MODEL SYSTEM OF EXPERIMENTAL SALMONELLOSIS INFECTION [№ 5 (app.1) ' 2005]
Peculiarities of infectious process of mice (CBA x C57 BL6)F1 at enteral infection with strain S. typhimurium and S. enteritidis, were studied in this article. Salmonella strain of enteritidis stimulated more expressed changes of infectious process (lethality, organs' semination, cellular structure changes of lymphoid organs, suppression of macrophage bactericidal characteristics) and were characterized with higher level of antilactoferrin, anticomplementary, antiimmunoglobulin activity.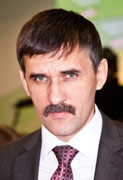 Editor-in-chief
Sergey Aleksandrovich
MIROSHNIKOV