Подача статей





Tkhazaplizheva L.Kh., Chadaeva V.A.
VITALITET STRUCTURE OF COENOPOPULATIONS OF SPECIES OF ALLIUM L. GENUS UNDER CONDITIONS OF KABARDINO-BALKARIA [№ 6 ' 2010]
The authors study vitalitet structure of coenopopulations (CP) of five species of wild onion belonging to Allium L. genus — Allium albidum Fisch. ex Bieb., A. saxatile Bieb., A. paniculatum L., A. szovitsii R., A. victorialis L. They discover biological features of the species and conditions determining basic features of CP vitalet structure. They also define several types of CP vitalet spectra.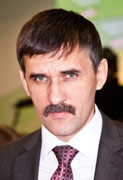 Editor-in-chief
Sergey Aleksandrovich
MIROSHNIKOV