Подача статей





Bystrykh V.V., Bashirov V.D., Belosludtseva L.A., Bogatov A.I., Kuzmin S.A.
COMPLEX APPRAISAL OF ORENBURG REGION ATMOSPHERIC AIR CONDITION [№ 1 ' 2006]
The appraisal of antropogenic influence on atmospheric air of intended for building territories of Orenburg region was given in this article. Cities which have supernormal level of pollution were determined here too. Priority pollutants were established.
Ivanov S.I., Sergeev S.Yu., Bystrykh V.V.
ENVIRONMENTAL ACTIVITY OF OOO "ORENBURGGAZPROM" AND POPULATION HEALTH PRESERVATION [№ 12 ' 2005]
The analysis of environmental activity of OOO "Orenburggazprom" is presented in the article. Also the appraisal of environment condition in the zone of possible influence of Orenburg gas-chemical complex is made and priority measures are determined. The appraisal of economical activity influence on the population health is made in this article too.
Tsytsura A.A., Dvornikov G.P., Bondarenko E.V., Bystrykh V.V., Muzaleva O.V.
VALUING OF AUTOMOBILE TRANSPORT INFLUENCE ON AIR QUALITY OF ORENBURG REGION. [№ 1 ' 2000]
Since the early nineties new social economic conditions caused the delay of economic development. At the same time the rapid growth of automobile transport has led to the disproportion between the of automobile growth and the amount of road building.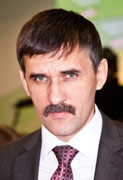 Editor-in-chief
Sergey Aleksandrovich
MIROSHNIKOV