Подача статей





Bravichev S.N., Bikovsky V.V.
COMPLEX MAGNETIC CAPACITY IDEA USE AT ELECTRIC MACHINES MAGNETIC FIELDS CALCULATIONS [№ 2 ' 2004]
The article develops the method of magnetic field calculation using complex magnetic capacity, allowing to determine magnetic induce for two moments of time, shifted on quarter of a period. It is possible to get information about magnetic field in every moment of time and to determine machine parameters completing the calculation of magnetic field for sing rotor position. The MKR of Poisson equation solution is considered taking material saturation into account.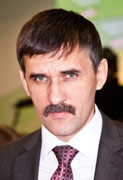 Editor-in-chief
Sergey Aleksandrovich
MIROSHNIKOV