Подача статей





Bulganina S.N., Karabaev R.Y.
THE INSTITUTIONAL APPROACH TO THE ANALYSIS OF THE ECONOMIC CYCLE OF THE CAPITALIST MARKET-ECONOMY SYSTEM [№ 13 ' 2011]
The paper presents an institutional approach to the study of cyclic development of the capitalist economy, traded to the behavior of economic agents. Revealed the dual nature of the subject of capitalist accumulation. The accumulation of capital is seen as a way to implement an economic interest. It was determined that in a modern market economy, capital accumulation, through routinization, becomes a function of market institutions.
Bulganina S.N.
THE NATURE AND FUNCTIONS OF THE RUSSIAN ECONOMY SUBJECTS [№ 4 ' 2002]
The article deals with the nature and genesis of the market economy subjects as a result of the process of personification and depersonalizing in the economic relations. The author analyses the peculiarities of the structure and functions of the Russian economy subjects. The author also proposes the hypothesis about the necessity of two vectorial development of the Russian economy, the latter being the processes of synchronous forming of the individual economic freedom and organized structures which represent the integrated individuals' interests.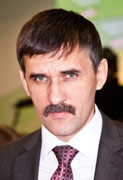 Editor-in-chief
Sergey Aleksandrovich
MIROSHNIKOV