Подача статей





Bueva I.I., Bueva V.V.
SOCIAL SUPPOSITIONS TO THE FORMATION OF THE CORPORATIVE CULTURE PHENOMENON [№ 5 ' 2010]
Characteristics of modern society are regarded in this article. The special attention is given to the analysis of globalization tendencies, integration, importance of culture and corporationism as universal social phenomena became the sources of corporative culture which inherit their features: axiologicality, humanisty, multifunctionality, polystucturality, integravity, dynamicity, universality.
Bueva I.I.
TRAINING WITHIN A FIRM AS A MECHANISM OF CORPORATIVE CULTURE FORMING OF EDUCATIONAL ORGANIZATION [№ 1 ' 2006]
The essence of innovation concept "Corporative culture" for pedagogic context is regarded in this article on the base of modern special literature analysis. The phenomenon content of training within a firm as a mechanism of corporative culture forming on the example of activity of children additional educational organizations is revealed here.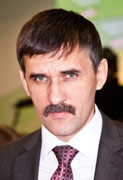 Editor-in-chief
Sergey Aleksandrovich
MIROSHNIKOV