Подача статей





Fedorov S.V., Bondarev A.V.
OVERVIEW OF HOW THE FORMATION OF LAWS PULSE WIDTH MODULATION ON THE BASIS OF COMPARISON SYNCHRONIZING SIGNALS WITH SIGNAL MODULATION FREQUENCY CONVERTERS OF MATRIX [№ 3 ' 2014]
This article shows how to generate an output voltage frequency converters of matrix based on a cyclic connecting the load alternately to each phase of the source. The dependences for modeling and synchronization functions. Presents a functional diagram of the multichannel system of key management matrix converter.
Bondarev A.A., Kassal B.Yu.
HISTORY AND PROSPECTS OF THERIOFAUNA OF THE MIDDLE PRIIRTYSHIE [№ 6 ' 2009]

Mamtsev A.N., Bondareva I.A., Kamilov F.H., Kozlov V.N.
ESTIMATION OF PHYSIOLOGICAL ACTIVITY OF IODINE CONTAINING BIOLOGICALLY ACTIVE COMPONENT ON THE BASIS OF PECTIN AT EXPERIMENTAL HYPOTHYROIDISM [№ 12 ' 2005]
In the article the results of researches are submitted according to specific physiological activity of iodine containing organomineral complex in relation to thyroid system of laboratory rats. The importance of chronobiological researches of rats' body temperature is shown during experimental modeling of hypothyroidism and studying of efficiency of iodine containing biologically active components.
Bondareva E.Y.
INFORMATION TECHNOLOGIES AND THEIR INFLUENCE UPON EFFECTIVENESS OF APK DAIRY SUBCOMPLEX FUNCTIONING [№ 10 (app.1) ' 2005]
Dataware study results of reprocessors ATK are cited in the article. The results helped to state that during the functioning of district agroindustrial units the information flows are considerably dispersed and often carry duplicated information. There is often the information of technical, technological and another applied character. This is needless during the transition to new forms of management organization on a district level.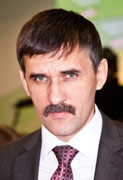 Editor-in-chief
Sergey Aleksandrovich
MIROSHNIKOV