Подача статей





Blinkova E.S., Dzhashi B.G.
THE CHOICE OF SURGICAL TECHNIQUE INDUCED CORRECTION OF AMETROPIA AFTER KERATOTOMY [№ 12 ' 2014]
LASIK technique allows for correction of ametropia induced keratorefractive after surgery. For the correction of ametropia induced on background hyperopic refraction with ectasia and in the absence of progression of corneal changes preferred phacoemulsification with IOL implantation.
Blinkova E.S., Solodkova E.G.
COMPARATIVE ANALYSIS OF CUSTOMIZED AND STANDARD ABLATION ON POSTOPERATIVE RATE OF HIGHER ORDER ABERRATONS AFTER MYOPIC LASIK [№ 4 ' 2013]
Higher order aberrations (HOA) were studied in photopic and scotopic conditions according to findings of 82 bilateral LASIK on Schwind Amaris excimer laser (Germany) in various optical zones. Rate of post-LASIK higher order aberrations within the 4-mm corneal optical zone has no tendency to increase. However, optical zone, corresponding to scotopic conditions, was characterized by HOA-rate enhancement. OZ calculation should be made with consideration to scotopic pupil diameter. Wavefront guided LASIK eliminates risk of scotopic side effects.
Khvostikov A.S., Kosmynin A.V., Schetinin V.S., Smirnov A.V., Blinkov S.S.
THE CONTROL OF THE SPINDLE ON GAS-STATIC BEARING THE METOD OF VIBRATION ACOUSTIC ISSUE [№ 9 ' 2012]
The technique of the control of position of a spindle on gas-static bearing is stated by a method of vibrating acoustic issue. The description of the experimental stand and the measuring equipment is resulted.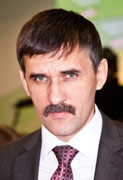 Editor-in-chief
Sergey Aleksandrovich
MIROSHNIKOV