Подача статей





Chepasov V.I., Fot A.P., Bikmukhametova A.A., Sologub L.F.
BASIC PARAMETERS FOR DEFINITION OF CHARACTERISTICS OF SETS OF END MEASURES [№ 3 ' 2013]
The article discussed the questions of optimization of parameters of sets of plane-parallel end measures on the basis of the methodology of association of the studied parameters of factors and location on the results of the associations in each of the factor of the basic parameters of the sets. On basic parameters, built models for finding of the main characteristics of sets of end measures.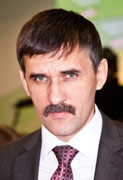 Editor-in-chief
Sergey Aleksandrovich
MIROSHNIKOV