Подача статей





Bikbov M.M., Khusnitdinov I.I.
CANALOPLASTY IN PATIENTS WITH PRIMARY OPEN ANGLE GLAUCOMA [№ 12 ' 2015]
Glaucoma is the leading cause of irreversible blindness in the world. Advanced techniques in primary open angle glaucoma surgery tend to minimize the incisions and restore the natural outflow pathways of intraocular aqueous humour. The article presents the results of canaloplasty with the Glaucolight system in 31 patients (35 eyes) with primary open angle glaucoma (POAG). The average age of patients was 57.1 ± 6.3 years. There was an initial stage of POAG in 22 cases, developed — in 8 cases, far-advanced — in 5 cases. None of the patients underwent antiglaucomatous operations previously. Postoperatively, increased intraocular pressure (IOP) in all patients was managed. The field of view had no changes. Visual acuity was corresponded to preoperative visual acuity. Two cases (5.7 %) showed IOP increase in 1 month after the surgery. Laser descemetogoniopuncture was performed and IOP normalized. Increased up-to 27 mm Hg. IOP was noticed in 4 cases (11.4 %) after 12 months after the surgery. Antihypertensive drugs were prescribed for 2 eyes; 2 patients underwent reoperation — sinus trabeculectomy with implantation of drainage. Canaloplasty helps to restore the natural outflow pathways of intraocular aqueous humour without the creation of the filtering bleb by increasing the permeability of the trabecular meshwork, preventing re-collapse of Schlemm's canal and occlusion of the mouth of the collector channels. Сanaloplasty efficiency in patients with POAG in follow-up period up to 18 months in absolute terms amounted to 83 % and with an additional treatment — 94 %.
Khusnitdinov I.I., Bikbov M.M.
ONE-STAGE PHACOEMULSIFICATION AND AHMED VALVE IMPLANTATION IN PATIENTS WITH REFRACTORY GLAUCOMA [№ 12 ' 2015]
Cataract complicated with glaucoma is quite often encountered in practice and according to the literature ranges from 15 to 76 % of cases. The article presents the results of simultaneous phacoemulsification of complicated cataract and Ahmed valve implantation in 19 patients with refractory glaucoma. All patients had in past medical history of fistulizing antiglaucomatous surgery. 10 patients (10 eyes) had complicated cataract after operated primary open angle glaucoma, 6 patients — after secondary neovascular glaucoma developed on the background of progressive diabetic retinopathy, 3 patients — after a post-traumatic glaucoma. The age of patients ranged from 56 to 73 years. Early postoperative period was marked by manageable levels of IOP (14.2 mm Hg ± 2.6 mm Hg.) and the absence of inflammation and bleeding typical for fistulizing combined operations. Visual acuity increased to 0.1 in 6 eyes, from 0.2 to 0.5 — in 10 eyes, from 0.6 to 0.7 — in 3 cases. In long-term follow-up period (from 6 months to 2 years) visual acuity decreased in 2 eyes due to progression of diabetic retinopathy. In one case, in 1.5 years after surgery there was a dislocation of a complex of the capsular bag, intracapsular ring and IOL. After 12 months of follow-up there was IOP increase primarily in patients with neovascular glaucoma, the appointment of antihypertensive drugs was requested. Simultaneous phacoemulsification of complicated cataract and Ahmed valve implantation in patients with refractory glaucoma provides improvement of visual function with simultaneous compensation of intraocular pressure for a long-term follow-up period.
Bikbov M.M., Yafaeva L.R.
COMBINED TREATMENT OF BULLOUS KERATOPATHY [№ 12 ' 2014]
The proposed two-step treatment mode (step 1 — CXL, step 2 — automated endothelial keratoplasty) was performed with optical and curative purpose and it has been proven its efficiency.
Zaynutdinova G.Kh., Fayzullina A.S., Farkhutdinova A.A., Bikbov M.M.
EVALUATION OF CLINICAL RETINOPATHY OF PREMATURITY USING MODERN METHODS OF DIAGNOSTICS [№ 12 ' 2014]
At the present stage in connection with the improvement of the care of premature infants and an increase in their number the problem of early diagnosis and treatment of retinopathy of prematurity (ROP) is becoming increasingly important [1]. Optimization of diagnostics PH using modern equipment, such as a pediatric retinal camera, the use of computer programs for the quantitative measurement of retinal vascular caliber [3], [4], holding optical coherence tomography [2] — all this allows ophthalmologists to receive more information about the activity and localization of the process in the retina, which is very valuable in screening and monitoring of the ophthalmopathology.
Surkova V.K., Bikbov M.M., Usubov E.L., Zaynullina N.B
CLINICAL OUTCOMES PELLYUTSIDNOY DEGENERATION OF THE CORNEA CORNEAL COLLAGEN CROSS-LINKING METHOD [№ 12 ' 2014]
We observed 18 patients (27 eyes) with pellucid corneal degeneration who underwent a standard CXL technique. The given treatment stabilized the disease process in 85 % of cases (23 eyes) and improved optometric indices due to reduction of corneal refractive power by an average 1,0 D in 6–12 months, improvement of best corrected visual acuity by 1,5 times (from 0,41 to 0,59), corneal flattening and compaction.
Bikbov M.M., Bikbulatova A.A., Khusnitdinov I.I., Mannanova R.F.
COMPARISON ANALYSIS OF CHANGES OF PSEUDOPHAKIC EYE OPTIC SYSTEM ABERRATIONS AFTER ADD-ON IOL SULCOFLEX IMPLANTATION AND EXCIMER LASER INTRASTROMAL KERATOMILEUSIS [№ 12 ' 2012]
The paper presents comparison analysis of changes of pseudophakic eye optic system aberrations after add-on IOL Sulcoflex implantation and LASIK. Aberrations tests were performed using OPD-Scan (Nidek). Received results showed that Excimer laser and intraocular correction of low and average residual ametropia has decreased the level of low aberrations without increasing the level of higher order aberrations.
Fayzrakhmanov R.R., Bikbov M.M., Yarmukhametova A.L.
RETINA CENTRAL PART CHANGE AT SPONGY DIABETIC MACULAR EDEMA ACCORDING TO OPTICAL COHERENT TOMOGRAPHY DATA [№ 12 ' 2012]
There is a spongy retinal swelling of 48% in the whole diabetic macular edema. The study found that if patient has the spongy macular edema, there is pathological damage in the outer nuclear layer of the retina, the outer plexiform, retinal pigment epithelium, which determines the change in the total profile of the macular area.
Bikboev M.M., Serezhin I.N., Surkova V.K., Altynbaev U.R.
SOLICITOUS METHODS OF SURGERY VITREORETINALIS AT TREATMENT OF OPEN COMMINUTED TRAUMA OF BACK EYE PART [№ 12 ' 2007]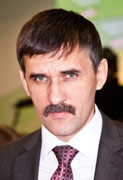 Editor-in-chief
Sergey Aleksandrovich
MIROSHNIKOV