Подача статей





Zavodnova O.S., Bezrodnova S.M.
CANDIDIASIS AND BACTERIAL MENINGOENCEPHALITIS OF CHILDREN AT THEIR FIST MONTHS OF LIFE [№ 5 (app.1) ' 2005]
25 children of the first months of life with meningoencephalitis, brought on mushrooms of Candida type and association with its participation were under dynamic observation. Participation of gram-negative flora is revealed in 56%. Candidiasis and bacterial meningoencephalitis was one of manifestation of candidiasis and bacterial sepsis. The terms of neurologic symptomatology appearance, duration of its preservation, outcome of pathologic process were set here. Diagnostic value of clinical research of liquor, neurosonography data depending on meningoencephalitis ethiology were defined in this article.
Zavodnova O.S., Bezrodnova S.M.
CLINICAL AND RADIATION PECULIARITIES OF HYDROCEPHALUS AT CONGENITAL TOXOPLASMOSIS [№ 12 ' 2004]
56 children with congenital toxoplasmosis were examined. Toxoplasmosis involves fetus intrauterinely, which is evident with different neurologic disturbances: abnormality, hydrocephalus, meningoencephalitis. 23,2 % of children had specific manifestation of intrauterinely carried meningoencephalitis. Complex of clinical and laboratorial dynamic examinations of new-born children (appraisal of somatic and neurologic statuses, neurosonographic and ultrasound study of brain, examination of cerebrospinal fluid) were conducted. Patients with toxoplasmosis hydrocephalus had high lethality and hard residual phenomenon.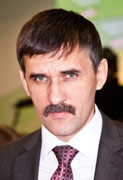 Editor-in-chief
Sergey Aleksandrovich
MIROSHNIKOV