Подача статей





Dornostup I.P., Berezhko V.D., Borisova I.G.
MECHANISM OF RISK MANAGEMENT OF ECONOMIC ACTIVITY OF THE ENTERPRISE [№ 13 ' 2012]
The essence of risk management of the enterprise is investigated. Main types of risks are revealed. The main methods of an assessment of risk are revealed at business management. Realization of policy of risk management by the enterprise is shown.
Berezhko E.V.
ACTIVITY OF A BARRISTER-DEFENDER IN CRIMINAL LEGAL PROCEEDINGS: SOME PROCEDURAL AND MORAL ASPECTS [№ 3 ' 2005]
Moral beginnings in criminal legal proceedings are enough important during present-day procedural criminal legislation development. Activity of a barrister-defender was discussed and is discussed now. That's why this article is devoted to some procedural and moral aspects of barrister's activity in criminal legal proceedings, problems of procedural barrister's position, barrister's privacy and relations of a barrister and his client are broached here.
Berezhko E.V.
ROLE OF MORAL BASICS IN CRIMINAL PROCEEDINGS AT PRESENT STAGE OF RUSSAIN LEGISLATION PROGRESS [№ 3 ' 2004]
This academic article is dedicated to moral aspects meaning for criminal proceedings. Role of moral basics is increasing after adoption of the new RFCPC . Legislator makes accent of necessity of enforcing moral norms aiming for law enforcers in order to provide citizen's rights and legal interests in criminal proceedings at high standards.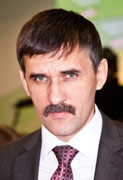 Editor-in-chief
Sergey Aleksandrovich
MIROSHNIKOV