Подача статей





Ivashkina G.A., Beloborodova S.V.
A PROBLEM WITH NONLOCAL BOUNDARY CONDITIONS [№ 9 ' 2014]
Consider the generalized Tricomi equation with boundary conditions relating boundaries of elliptic and hyperbolic parts of the mixed region. The existence and uniqueness of the task.
Polkunov Yu.G., Beloborodova S.V.
NUMERICAL CALCULATION FOR THE FIRST KIND STRESS INTENSITY COEFFICIENTS FOR THE CRACK IN THE HALF-SPACE [№ 5 ' 2009]
The article addresses determination of coefficients for the first kind stress intensity for the crack that is situated under control angle towards the half-space. It defines the dependence of the first kind stress intensity coefficients on the angle between the crack and half-space. Adequacy of the modeling results was confirmed with their comparison with the results made by the other authors.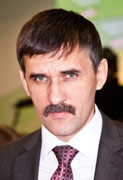 Editor-in-chief
Sergey Aleksandrovich
MIROSHNIKOV