Подача статей





Baidukova N.V.
URGENT ISSUES OF THE MARKET PAYMENT SERVICES REGULATION [№ 1 ' 2009]
In 2007 the Russian national payment system entered the new stage of its functioning, giving pay services in the regime of on line. However the market of retail accounts causes anxiety and preoccupation as before as it was not subjected with monitoring even from the side of the Central Bank of RF. This article is devoted to these issues.
Baidukova N.V.
THE CONNECTION OF DIGITAL CASH AND PAYMENT SYSTEMS [№ 8 ' 2005]
Now it is difficult to find any branch of economy, which is not enveloped with technical progress. One can consider that appearance such concepts as digital cash, digital calculations came to the financial sphere of economy because of those conditions, which were created with development of technical infrastructure as national economy as a whole, as its separate branches.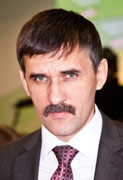 Editor-in-chief
Sergey Aleksandrovich
MIROSHNIKOV