Подача статей





Batsko I.N.
COURT AS A CENTRAL PARTICIPANT OF CRIMINAL-PROCEDURAL JURAL RELATIONS [№ 3 ' 2009]
The author devotes this article to the analysis of public-legal character of a court as a main participant of criminal-procedural relations.
Batsko I.N.
LEGAL PERSONALITY OF CRIMINAL-PROCEDURAL LEGAL RELATIONS SUBJECTS [№ 3 ' 2008]
This article is devoted to the analysis of criminal-procedural legal relations as an institute of criminal process with regarding of their prerequisites in from of legal personality of participants of indicated relations.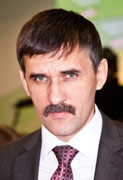 Editor-in-chief
Sergey Aleksandrovich
MIROSHNIKOV