Подача статей





Batrov V.A.
TENDENCIES OF DEVELOPMENT OF THE FOOD SUPPLY ORENBURGSKOY REGION [№ 8 ' 2014]
In the article the theoretical aspects of development of the food supply in the region, the food independence of the region, directions of development and relevant activities of the food supply of the region, considered at the reception of the Orenburg region.
Buresh O.V., Batrov V.A.
ANALYSIS OF THE DYNAMICS OF SECURITY ORENBURG REGION AGRICULTURAL PRODUCTS [№ 13 ' 2011]
In article branches of market specialization on the basis of production factor per capita are revealed. Branch of market specialization in the Orenburg region is the agriculture. A principal view of the agricultural production having strategic value for the country as a whole, grain manufacture is.
Buresh O.V., Batrov V.A.
SHORT-TERM FORECASTING OF THE PRICES FOR THE BASIC GRADES OF BREAD MADE BY THE ENTERPRISE ON THE BASIS OF ONE-DIMENSIONAL TIME NUMBERS [№ 13 ' 2010]
In article results of forecasting of the prices for the basic grades of bread on the basis of adaptive models are resulted. At the simplicity these models, at the expense of a principle of discounting of the information, can yield more exact results, than difficult econometric model.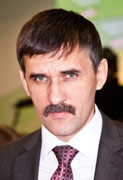 Editor-in-chief
Sergey Aleksandrovich
MIROSHNIKOV