Подача статей





Merzlyakova G.V. , Batalova L.V., Okonnikova T.I.
DEVELOPMENT OF PROFESSIONAL TOURIST EDUCATION IN UDMURT REPUBLIC [№ 7 ' 2014]
Basing on materials of Udmurt Republic, the article looks at the organization and forms of tourist education over a period of time since the middle of the 19th century to the present day. They have evolutionized from episodical excursions initiated by individual teachers in pre-revolutionary Russia to training at specialized courses organized by some public and state structures in soviet times, and to the establishment of the system of academic professional tourist education in new Russia.
Plisov I.L., Batalova O.M.
BUPIVACAINE – NEW VIEW ON OCULOMOTORIUS PATHOLOGY TREATMENT. LITERARY REVIEW [№ 12 ' 2007]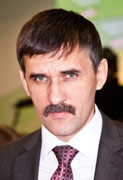 Editor-in-chief
Sergey Aleksandrovich
MIROSHNIKOV