Подача статей





Barbazyuk Е.V.
ON SEVERAL BIRD SPECIES IN ORENBURG STATE NATURE RESERVE [№ 10 ' 2013]
This report provides the new data on the occurrence of some bird species (Haliaeetus albicilla, Streptopelia orientalis, Bubo bubo, Lanius excubitor, Uragus sibiricus, Emberiza bruniceps) in Aytuar Steppe Site, which is one of the least studied areas n Orenburg State Nature Reserve, Russia.
Barbazyuk E.V.
ON THE FAUNA AND DISTRIBUTION OF THREATENED AND ENDANGERED BIRD SPECIES IN THE ORENBURG REGION, RUSSIA IN 2011 [№ 12 ' 2011]
This report provides new data on distribution and breeding of threatened and endangered bird species in Orenburg Region.
Barbazyuk E.V., Pertrischev V.P.
THE ESTIMATION OF THE DEATH RATE FOR BIRDS KILLED THROUGH ELECTROCUTION ON 6-10 KV POWER LINES IN ORENBURG REGION IN SUMMER 2011 [№ 12 ' 2011]
The article provides the outcomes for bird death survey on 6-10 kV power lines in Orenburg Region in summer 2011. In total, we found remains of 478 birds pertaining to 19 species. The portion of the Red Data Book individuals (24 individuals pertaining to the Long-legged Buzzard, Imperial Eagle, Steppe Eagle and Lesser Kestrel) out of the total perished birds was relatively low — 5.02%.
Barbazyuk E.V.
THE LITTLE BUSTARD POPULATION GROWTH AT THE EASTERN EXTREMITY OF ORENBURG REGION [№ 4 ' 2011]
This paper addresses the case of gradual recovery of the Little Bustard population at the eastern extremity of the Orenburg Region (Russia) in recent years. The number of occurrences increased since 1994 (R2 = 0.33; p = 0.0194). The maximum number of occurrences (11) was recorded in 2006. The maximum and average numbers of birds changed in intermittent manner with slightly rising tendency (R2 = 0.44; p = 0.0054 and R2 = 0.41; p = 0.0071, accordingly).
Barbazyuk E.V.
BREEDING AND DISTRIBUTION OF STEPPE EAGLES (AQUILA RAPAX) IN THE SITES OF ORENBURG STATE RESERVE [№ 6 ' 2009]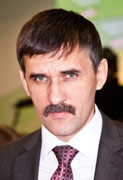 Editor-in-chief
Sergey Aleksandrovich
MIROSHNIKOV