Подача статей





Uzenyova A.N., Kanyukov V.N., Bagirova G.G.
APPLICATION EFFICIENCY OF MEDICATION ENALAPRIL FOR ARTERIAL HYPERTENSION CORRECTION AT GLAUCOMA SURGICAL TREATMENT [№ 1 ' 2013]
Arterial hypertension and glaucoma are actual medical–social problems of modern humanity. 50–60% of patients with arterial hypertension coming for glaucoma surgical treatment need correction of hypotensive therapy. Application of enalapril as hypotensive therapy lets achieve optimal indications of arterial pressure in paraoperative period.
Kanyukov V.N., Bagirova G.G., Uzeneva A.N.
USING OF FUNCTIONAL DIAGNOSTICS METHODS AT PRESURGICAL PREPARATION OF PATIENTS WITH CARDIOPATHOLOGY AT OPHTHALMOSURGERY [№ 12 ' 2007]

Kovalchuk M.V., Bagirova V.V., Veselov B.V.
MAGNETIC FIELDS IN COMPLEX TREATMENT OF OSTEOARTHROSIS [№ 5 ' 2003]
The efficiency of impulse magnetic field (IMF) in treatment of osteoarthrosis patients is estimated in the article. From 30 surveyed patients 15 received treatment IMF, 15 - variable magnetic field (VMF). Under the influence of therapy with inclusion IMF at patients positive clinical dynamics was marked, parameters of rheovasogram, сapillaroscopy , conjunctival vascular indexes were authentically improved. VFM renders less expressed effect on microcirculation and regional vascular resistance.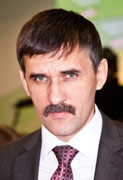 Editor-in-chief
Sergey Aleksandrovich
MIROSHNIKOV