Подача статей





Ayupov Z.Z., Anokhina N.S.
BASHKIR STATE AGRARIAN UNIVERSITY [№ 12 ' 2011]
On the basis of long-term stationary experiments were carried out research to identify the nature of the influence of resource-principal methods of tillage and fertilizer in humus status of leached chernozem and its enzymatic activity. The results of research aimed at stabilizing the soil
Ayupov Z.Ya., Gabidullin I.F.
UPBRINGING OF POPULATION CITIZENSHIP ON THE EXAMPLE OF ANCESTORS' LIFE AND ACTIVITY [№ 2 ' 2010]
Annotation: In this article the authors give information about upbringing of population citizenship on the example of ancestors' life and activity. Also they research the period of government of Seldzhuk's Empire from 1127 till 1250 on the example of Aiyubid's dynasty (Nasir Salakh ad-din Yusif).
Ayupov Z.Z., Anokhina N.S., Minnebaeva I.F., Rytseva N.G.
INFLUENCE OF ELEMENTS OF AGRICULTURE BIOLOGIZATION ON DYNAMICS OF LABILE HUMUS MATTERS, YIELD AND SEED QUALITY OF WINTER WHEAT [№ 6 ' 2009]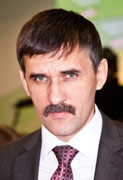 Editor-in-chief
Sergey Aleksandrovich
MIROSHNIKOV