Подача статей





Astasheva I.B., Kan I.G., Degtyarev D.N., Degtyareva A.V.
FEATURES OF DEVELOPMENT AND COURSE OF RETINOPATHY OF PREMATURITY WITH THE USE OF NEW APPROACHES TO RESPIRATORY THERAPY ON STAGE OF NEONATAL RESUSCITATION [№ 12 ' 2014]
The authors studied 2 groups of infants: the first group — 260 infants — received high concentrations of oxygen in the breathing mix (50 %) during resuscitation, they were on the long-term invasive mechanical ventilation. The second group — 66 children — received low concentrations of oxygen during resuscitation (not more than 45 %), there were dominated non-invasive methods of respiratory therapy (CPAP and non-invasive ventilation). It was found that in group 2, the disease is more favorable, later starts, early and often spontaneously regresses, it is characterized by a short period of the active phase of ROP, develops fewer severe ROP, which are requiring laser treatment, III stage of ROP occurs less frequently, the timing of its occurrence is later, it regresses faster, there is no aggressive posterior ROP, do not develop retinal detachment, ROP proceeds more favorably even with the wide avascular zone.
Astasheva I.B.
DIFFERENT METHODS OF COAGULATION RETINA IN SEVERE FORMS OF RETINOPATHY OF PREMATURITY [№ 4 ' 2013]
The authors conducted coagulation of the retina in 82 children (164 eyes) with the aggressive posterior retinopathy of prematurity (AP ROP) and 246 children (467 eyes) with stage 3+ retinopathy of prematurity (ROP). Established that the indication for the coagulation of the retina in the AP ROP is the appearance of signs separating elements between vascularized and avascular retina that occurs on average 34,32±1,47 weeks of gestation age. The best way to treat this form of ROP is the use of the confluent technique with a number of coagulates on average 1871,49±475,1.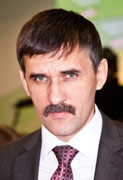 Editor-in-chief
Sergey Aleksandrovich
MIROSHNIKOV