Подача статей





Anokhina S.A.
THE AXIOLOGICAL ADAPTATION BACHELORS IN UNIVERSITY ENVIRONMENT [№ 2 ' 2014]
The article concerns the adaptation of students to the axiological paradigm that extends the meaning of the term and allows you to enter the notion of axiological adaptation in pedagogy. Correlating it with pedagogical constructs they must be operationalized, applied in theory and practice, the factors of university environment, influencing the adaptation of Bachelors in education.
Ayupov Z.Z., Anokhina N.S.
BASHKIR STATE AGRARIAN UNIVERSITY [№ 12 ' 2011]
On the basis of long-term stationary experiments were carried out research to identify the nature of the influence of resource-principal methods of tillage and fertilizer in humus status of leached chernozem and its enzymatic activity. The results of research aimed at stabilizing the soil
Ayupov Z.Z., Anokhina N.S., Minnebaeva I.F., Rytseva N.G.
INFLUENCE OF ELEMENTS OF AGRICULTURE BIOLOGIZATION ON DYNAMICS OF LABILE HUMUS MATTERS, YIELD AND SEED QUALITY OF WINTER WHEAT [№ 6 ' 2009]

Anokhina S.P.
SYNTAX OF CULTURAL CONCEPT TRUTH IN THE RUSSIAN AND ENGLISH LANGUAGES [№ 4 ' 2009]
In this article the author describes typology of cultural concept Truth in comparative aspect: in Russian and English religious discourse, especially in texts of New Testament; in-language and inter-language similarities and distinctions are in field organization of this concept; position about dependence of status of conceptual element features of the concept from the type of institutional discourse is proved here and also a big sign iconicness of English text in comparison with Russian is marked.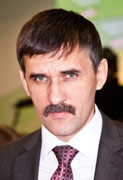 Editor-in-chief
Sergey Aleksandrovich
MIROSHNIKOV