Подача статей





Zharikova N.V., Zhurenko E.Yu., Korobov V.V., Aysakov T.R., Anisimova L.G., Markusheva T.V.
BIOLOGICAL VARIETY OF BACTERIA – DECOMPOSERS OF CHLORINATED PHENOXYACIDS [№ 6 ' 2009]

Anisimova S.I.
CONSTITUTIONAL BASES OF LEGAL REGULATION OF CORPORATIVE JURAL RELATION [№ 3 ' 2009]
Important questions of legal regulation of corporative jural relations are regarded in this article.
Anisimovа S.Yu., Anisimov S.I., Zagrebelnaya L.V.
EXPERIENCE OF CATARACT AND GLAUCOMA SURGERY IN HOUSEHOLD CONDITIONS [№ 13 ' 2004]

Anisimova S.Yu., Anisimov S.I., Rogacheva I.V.
DETACHED RESULTS OF USING OF NEW, STEADY TO DESTRUCTION OF COLLAGENIC DRAINAGE AT SUPERFICIALLY PENETRATED SCLERLIMBACKTOMY [№ 13 ' 2004]

Anisimova V.V., Serikov V.V.
PROJECTION OF PEDAGOGICAL ACTIVITY: OBJECTIVE AND SUBJECTIVE BASES [№ 2 ' 2004]
Pedagogical activity is regarded in this article as necessary element of projection of pedagogical system various attribute. The role of pedagogical projects in the realization of achievement technologies of educational objectives is given here, and also the influence on formation of subjective-personal and professional reality is showed in this article. The authors give in their article the analysis of logical-system model of pedagogical activity, which is represented as given project. As it is stressed in the article, psychological mechanism of pedagogical projecting is reflexive thinking of a teacher, which is showed in a form of intuition, reflexion and personal appraisal of proper experience.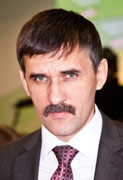 Editor-in-chief
Sergey Aleksandrovich
MIROSHNIKOV