Подача статей





Amineva A.A., Suyundukov Y.T., Yanturin I.S.
MIGRATION OF HEAVY METALS IN WATER ECOSYSTEMS OF THE GEOCHEMICAL PROVINCE OF ZAURALIE (ON THE EXAMPLE OF LAKES TCHEBARKUL OF THE REPUBLIC OF BASHKORTOSTAN) [№ 5 ' 2016]
To determine the content of copper, zinc, iron, manganese and cadmium in water, sediments, aquatic plants and organs of fish of the lake Chebarkul. The total index of pollution of water with heavy metals (Zc) forms a series of decreasing Fe > Zn > Mn > Cu > Cd.The water quality corresponds to the category from "moderately dangerous" to "dangerous".In the sediments the heavy metal compounds decreases in the series Fe > Mn > Zn > Cu > Cd. Elodea canadensis L. is the hub of Zn and Mn, Sphagnum Dill L. and Carex paniculata L. reject all heavy metals.In all studied plants by heavy metals form a decreasing series: Mn > Zn > Fe > Cu > Cd. According to the degree of concentration of heavy metals in the organs of common carp and perch ordinary can be arranged in the following decreasing range: gills > liver > kidney > bones > scales > muscles. For the studied organs and tissues of both fish species characterized by the following ranges of accumulation: Fe (Zn) > Zn (Fe) > Mn > Cu > Cd.
Amineva A.A., Buskunova G.G.
PECULIARITIES OF ACCUMULATION AND IRON TRANSPORTATION IN SOIL AND ACHILLEA NOBILIS L. ORGANS IN CONDITIONS OF STEPPE ZONE OF SOUTH URAL [№ 6 ' 2009]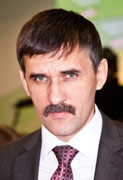 Editor-in-chief
Sergey Aleksandrovich
MIROSHNIKOV