Подача статей





Amelin V.V.
THE PRESERVATION OF CULTURAL DIVERSITY AS THE BASIS OF STABILITY IN POLYETHNIC MULTICONFESSIONAL REGION [№ 13 ' 2015]
Ethno-political situation in Russia, which has a complex, multi-cultural composition of the population, require monitoring of ethno-political processes, developing mechanisms for the preservation of international peace and harmony, dialogue between different religions. The article deals with inter-ethnic and ethno-confessional situation in the multiethnic region. Showing forms of governance of cultural diversity. Ethno-cultural policy pursued by the authorities to preserve and develop national culture, native languages contributes to the preservation of ethnic and religious identity, which in turn leads to the strengthening of civic identity  — the Russian nation. Evaluated the development of Orthodox-Islamic, Orthodoх-Catholic, Orthodox-Protestant dialogue and the attitude of the Russian Orthodox Church to the new religious movements. Noted the positive role of the institutions of civil society, in this case of the national non-governmental organizations, in working to meet the national needs of the population, as well as the creation of mechanisms of interaction between the authorities and ethnic groups. Cited the data on the ethnic structure of the region's population, defined the factors that contribute to its change (migration, change of ethnic identity, interethnic marriages). On the basis of social questioning assessed the state of ethnic and religious relations, revealed the presence of the potential for conflict, named the risks of cross-cultural integration, described the accumulated experience of adaptation of migrants in Orenburg society. It is concluded that the positive practices in the field of state national policy contribute to the preservation of cultural diversity as the basis of ethno-political stability in the region.
Amelin V.V.
HISTORY OF ETNIC COMMUNITIES OF ORENBURG REGION: PROBLEMS OF MODERN HISTORIOGRAPHY [№ 5 ' 2012]
The article deals with problems of the modern historiography of the history of the ethnic communities of Orenburg region. The analysis indicates a growing interest of scientists in this subject. It is concluded that a number of studies are amateur, rather than professional historical.
Ivanova I.Yu., Solovykh G.N., Amelina L.V., Tomilina I.I., Prokhorova I.M.
EVALUATION OF TOXIC AND MUTAGENIC FEATURES OF BOTTOM DEPOSITS OF URAL AND SAKMARA RIVERS IN THE AREA OF THE LARGE INDUSTRIAL CENTER (ORENBURG) [№ 12 ' 2006]
In the bottom deposits of Ural and Sakmara rivers in the area of the large industrial center – Orenburg the presence of substances able to exert toxic and mutagenic influence on test objects was determined. Presence of such substances in grounds is indicative of a source of chronic pollution of rivers in the surveyed area. Comparison of data obtained on toxicogenetic tests using Chlorella vulgaris, Allium cepa, Drozophila melanogaster indicated that level and scope of mutagenic pollution of bottom deposits are changing depending from the term and place of sampling.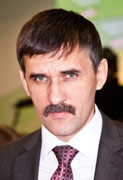 Editor-in-chief
Sergey Aleksandrovich
MIROSHNIKOV