Подача статей





Garitskaya M.Yu., Chekmareva O.V., Chernysheva K.S., Aleeva O.N.
EVALUATION OF CHEMICAL CONTAMINATION AND DEGRADATION OF SOILS IN THE INFLUENCE ZONE OF VAKHITOVSKY FIELD [№ 5 ' 2016]
Orenburg region is rich in minerals, the main ones are gas and oil, in its depths explored more than 2 500 deposits of 75 kinds of minerals, and in terms of reserves and mining region is among the leading group of regions of Russia, this industry has a significant impact on environment. Soil pollution by oil and oil products refers to a very popular type of negative anthropogenic impacts, especially in the industrial regions of Russia. A key element in the chain of the environmental impacts of oil pollution is a change in the species composition of vegetation and reducing its productivity until the complete destruction of all plants in the contaminated area. Investigated the problem of soil contamination in the zone of influence Vakhitovsky deposits (Orenburg region). Vakhitovskoe oil field is located in Perevolotskaya district, 32 kilometers north of the regional center Perevolotskiy.Mestorozhdenie was commissioned in 1995, is currently 20 wells listed in the mining fund. Soils were analyzed for the content of acid impurities, metals, benzo (a) pyrene, petroleum and pH. They were calculated: the concentration of pollutants, concentration ratio relative to the background impurities values in soil and soil contamination indicator chemical profiling using the method. Identify priority among the impurities of acidifying substances and metals. A ranking by total chemical pollution of soils, which showed that issleduyumuyu contact area at a distance of 1 500 meters from the source of pollution can be attributed to the zone of ecological emergency. Identify indicators phytotoxicity of soil from which it follows that the soil in the zone of influence in the fields Vakhitovsky rasstoryanii up to 1 500 meters are highly degraded.
Nazarov V.V., Kushnarenko V.M., Nazarov S.V., Boriskina P.A., Aleeva O.N.
SUBSTANTIATION OF HYPOTHESES DO NOTNEWTONIAN FLOW SOLUTIONS IN CENTRIFUGAL RHEOSEPARATORS [№ 1 ' 2014]
The article analyses the main provisions of the classical and hydrodynamic theories centrifugal rheoseparation. Proposed use of new mathematical dependences for calculation and design of rheoseparators and rheocentrifuges high performance, with a high degree of separation solutions for the faction.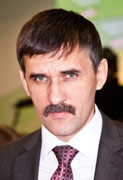 Editor-in-chief
Sergey Aleksandrovich
MIROSHNIKOV