Подача статей





Akbirov R.A.
SOIL APPRAISAL AND QUALITY STANDARD OF THE FOREST-STEPPE ZONE GROUNDS OF REPUBLIC BASHKORTOSTAN ON AGROECOLOGICALBASIS [№ 9 ' 2005]
Quality and cost estimation of the grounds in system of the State ground cadastre are the basis of rational and highly effective use of ground resources, increases of soil fertility and productivity of agricultural crops. The role of an estimation of ground at the present stage immeasurably grows. Transition to self-financing, free marketing, rent, individual country economy etc. will demand the immediate decision of a question of a payment for the ground, consequently, and estimations of its quality. We carried out soil appraisal and quality standard of the grounds for a forest-steppe zone on agroecological basis.
Akbirov R.A., Garifullin F.S.
ECOLOGICAL FACTORS OF SOIL FORMATION OF THE FOREST-STEPPE ZONE [№ 5 ' 2005]
Division of a forest-steppe zone into three is specified in the article - northern, northeast, southern. Features of an environment of these zones and their influence on soil formation process are shown. Depending on ecological factors - a climate, a relief, soil constituting layers and vegetation in northern and northeast subzones prevail grey wood ground, in southern - podzol and leached chernozems which have a various level of fertility.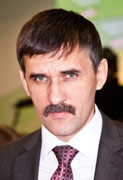 Editor-in-chief
Sergey Aleksandrovich
MIROSHNIKOV